A Brief History Of The Aircraft Interiors Expo In Hamburg (Part 1)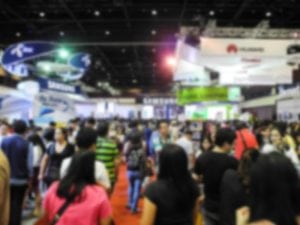 The Aircraft Interiors Expo in Hamburg is staged every year. It is the leading global business-to-business event for the industry of aircraft interiors. Leading suppliers of in-flight entertainment systems, in-seat power supply, and more come to showcase their innovations to airlines around the world. The three-day event includes over 20 hours of educational content, over 1,000 airline buyers, and more than 550 exhibitors. This grand trade show didn't just come out of nothing. The Aircraft Interiors Expo in Hamburg started 18 years ago and has had quite the evolution in the time since.
2000: The Beginning
At the start of the century, the UKIP Media and Events established the first Aircraft Interiors Expo event in Cannes. The initiation of this event marked the world's first event entirely dedicated to the design, fitting-out, and completion of aircraft interiors. The event stayed in Cannes in 2001 as well. That year's rendition of the show had more than 100 companies exhibiting their products and an international forum that uncovered new concepts across the field.
2002: Move To Hamburg
Hamburg, Germany was picked out as the ideal location because of its Aviation hub and the location of the Airbus cabin interior facility. Over 4,000 visitors came to see the 241 exhibitors at the Hamburg Messe convention centre in 2002. After that year's overwhelming success, the event organizers decided that Hamburg would be the permanent location. The Inflight Entertainment Zone was added to the expo in 2004. By 2005, the Aircraft Interiors Expo in Hamburg had doubled in space size since its first show in Germany.
2006: New Halls And More Visitors
A total of 504 exhibitors were at the expo in 2006, causing officials to add another hall to accommodate. Hall 9 was a new development for the exhibit placement of the expo and was devoted to cabin communication and entertainment systems. A record-breaking 11,595 people came through the center's doors. Many exhibitors decided to station "gatekeepers" specifically to take business cards from visitors and schedule meetings.
With approximately 41% of passengers preferring to watch movies while they're on a plane, the Aircraft Interiors Expo is an essential event for those in the industry. Continue on to Part Two of its history to see how it continued to evolve.